It's So Hard to Say Goodbye!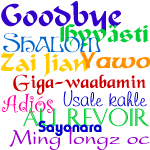 Happy Friday folks!
Saying goodbye can be a very difficult thing to do, well I guess depending on that it is I suppose. ;-) Anyway, I have decided to leave my post at GoodVeg writing the
Vegiquette
column. This was a hard but necessary decision as I embark upon new adventures in 2013. Please click
here
to see my farewell message!
Have a wonderful weekend and as we get closer to Christmas day, do not forget what the holidays are really about! Show love, no stress and be joyful!